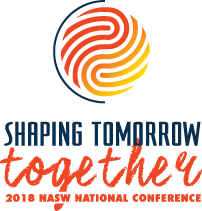 Welcome to the 2018 NASW Virtual Forum!
Welcome to the 2018 NASW Virtual Forum, Opioid Crisis: No Community is Immune, live streamed from the NASW national office in Washington, DC, on Wednesday, November 14, and Thursday, November 15, 2018.
Join more than 500 of your social work peers for two days of unparalleled professional development and continuing education opportunities by participating online from anywhere in the world.
By participating in the 2018 NASW Virtual Forum, you will:
Gain access to 4 plenary sessions and 8 breakout sessions
Earn up to 8 CE contact hours, including ethics credits
Use a chat feature to connect with other virtual participants around the globe
Explore a virtual exhibit hall to meet with exhibitors and view the latest social work–related products and services
Learn about the following topics as they relate to the opioid crisis: implications for ethics, self-care, policy initiatives, use in the LGBTQ community, addressing addiction through integrated health, impact on children and families, best practices in treatment, and more.
Don't miss out! Access cutting-edge presentations by recognized thought leaders to enhance your knowledge of practice trends, policy, and research findings.